Today we get to share about a family grappling with the pandemic financial ramifications and how your support has allowed us to serve Dhanush in our Little Lights Program!
Dhanush is in sixth grade. His parents are day laborers, and he lives with them and two siblings in the Thalaivasal village leprosy colony. The pandemic challenges have impacted their finances greatly, and they are struggling to provide meals and proper education for their children.
It's a place no parent wants to be in, so it was an answered prayer when we got to welcome Dhanush and his brother and sister into our Little Lights After-School Tutoring Program –  they love it!
Feeding little hearts and minds through nutrition and tutoring
The children in our program receive homework help and tutoring so they can excel in their studies. Dhanush wants to learn English so he can read the Bible in English but is finding it's a difficult language to master. So the teachers in our program are helping him achieve his goal!
Our staff and tutors work hard to ensure that the kids are thriving both academically and spiritually, and we also give them a nourishing meal every time we are together. You can read about a graduated student from our tutoring program here.
A place where kids can be kids and love childhood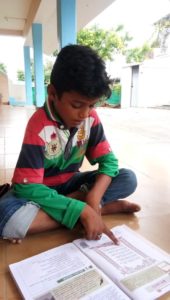 Dhanush is very energetic and likes playing with friends and says he and his brother and sister are so happy to be part of the tutoring program. He especially likes the Bible stories and songs that we teach on Fridays. This is a safe place for kids that live in vulnerable areas so they can just be kids and make memories, laugh, learn, be silly, and discover about God's love for them.
His parents say they are so thankful to EAV for providing all the necessary educational support for their children during this pandemic. It's a gift to serve them, and we are grateful to help their family in their time of need. 
Thank you for supporting our ministry so we can reach so many families affected by the pandemic. We are seeing their prayers being answered and their lives being changed as a result of your giving, and it's humbling and incredible to watch. 
This season in our world is a unique time where the church gets to rally together and live out what it looks like to be the hands and feet of Jesus. If you'd like to support even more kids like Dhanush and his siblings, you may do so here.