A Gifted, Compassionate Team
Joe Clendenny is the founder and CEO of Trinity 12, located in Fenton, Missouri. The company was started in 2013 as an on-line retailer and additionally operates as a 3rd Party Logistics Coordinator for several national shoe brands.
Joe is also CEO of Embrace A Village, which is a 501(c)(3) non-profit founded in 2004 in partnership with Anil and Roselyn Kumar who reside in Coimbatore, India. The organization operates in the state of Tamil Nadu with a mission to serve people affected by leprosy holistically through spiritual, medical, nutritional and educational programs. Embrace A Village has a 2 acre rehabilitation center and also a hospice facility located in Coimbatore along with a team of 50 dedicated workers who reside throughout southern India providing loving care and spiritual guidance to those affected by leprosy. The organization has grown to serve over 35+ villages, mostly located in remote areas totaling approximately 3500 people. 100% of all donations received by Embrace a Village go directly to the project.
Joe is a husband, father, grandfather, business leader and a faithful servant to Jesus Christ.
Dr. Kennedy is the founder and owner of Kennedy Consulting Group LLC, a robust recruiting and advisory firm in the technology and sciences space focused on new agricultural technologies, nutrition, and commercial development in agriculture globally. Clients include Monsanto Agricultural Co., Donald Danforth Science, Dow Agro Seeds & Traits, Dupont Nutrition / Solae, Genus ABS, Evogene, Nexsteppe Bio- Energy, APSE RNAi, Genective, Covercress, Bio STL, iNovotec Animal Care, Arcadia Biosciences, Greenlight Biosciences and Thermaquatica Energy.
Currently Dr. Kennedy serves the Circle of Concern, St. Louis City and InExcelsis BOD; both organizations serving the homeless in the city and county. Dr. Is Direction of admissions for Wellspring Family Church.
Dr. Kennedy's ultimate passion and commitment is nutrition for the undernourished in India. As a co-founder of Happy Bar Nutrition Foundation in Bangalore India, registered and trademarked in Karnataka India and the USA non-profit Happy Bar Nutrition Inc., his focus is to develop, manufacture and deliver plant based vegetable protein snacks and foods on a broad basis in India; develop and provide educational programs on nutrition; and provide jobs via manufacturing and the creation of micro nutrition business in rural India. Dr. Kennedy has served as a volunteer with Embrace A Village since 2004 making numerous trips to India in that capacity.
Dr. Kennedy has had a distinguished professional multidisciplinary career in agribusiness, crop protection, precision agriculture, agronomy, plant biotechnology, plant breeding and applied genetics. He has extensive experience in the transfer of new technologies from research through product development, regulatory sciences to commercial entities globally. He has held positions in organizational and capacity building of research, applied genetics, breeding, technical services and product development teams, training programs, project management systems and strategic planning.
Dr. Kennedy has headed licensing teams for plant biotechnology property rights, secured needed research agreements as well as commercial rights for herbicides, genes, promoters, diagnostics, and other technologies. He has broad hands-on experience in taking specific technologies from the laboratory commercial.
Terry Knoploh is currently President/CEO of King + Cross Companies, located in Fenton, Missouri. He began serving in this role in July 2009. The company consists of three brands—CTA, God's Word in Time, and King + Cross Distributors—which serve Christian churches and ministries, Christian schools, and the Christian retail marketplace.
In addition, Terry is the cofounder, along with his wife Renee, of Living Grace Partners, LLC, where he is an executive coach and mentor, serving leaders who are interested in living out the principles of Christ-centered leadership in all areas of their life.
Terry is currently a board member for Stonehenge Technology Labs, a software-development company located in northwest Arkansas.
Terry is a husband, a father, a business leader, but above all else, he is a servant of Jesus Christ.
Born in India on 09/12/1966 and grew up in Dubai and came to USA in August of 1985 and is currently a US citizen with OCI cardholder of India.
Soman grew up in Syrian Orthodox Church (Jacobite) background from Kerala, India and grew with respect for Lord Jesus Christ as Christians God. He came to USA in 1985 to pursue Bible degree so I can go back to Kerala, India to pursue my dream of being a Orthodox priest. While at the Bible College he heard the glorious Gospel and accepted Lord Jesus Christ as my Lord and Savior. Soman realized He is the only hope of Salvation and there is no other name on earth by which a soul can be saved except Lord Jesus Christ. Once I accepted the Lord, Soman decided to pursue pastorate and finished his Master of Divinity at Covenant Seminary in 1995. Since his seminary degree, he has pursued church planting in India but decided to return back to USA. Soman is currently working in sales and the Lord is using him for His glory.
Soman was married in 1993 and blessed with his bride, Lynn and son, Benjamin (24 years old) who fears the Lord. Soman feels blessed with the EAV ministry and Lord willingly, he looks forward to visiting Coimbatore later in the year.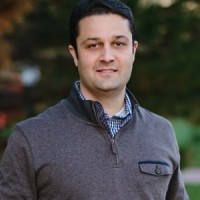 A seasoned eCommerce professional with 10+ years of experience in leadership, development and implementation of strategic initiatives. Proven capacity for cultivating and maintaining key relationships with a passion for driving growth, creating digital marketing strategies and collaborating with cross-channel teams and management to effectively increase sales revenues and conversion. A versatile, creative leader delivering on profit goals while building organizational capabilities and morale.