Yesterday we sent you an email announcing our new sponsorship program – Embrace a Family! This opportunity is designed to allow you to better understand the impact of your giving to EAV. 
We reach about 3500 people monthly with our ministry (planning for an additional 800 people this year), but I'd like to break it down to show how those people are impacted…
16,000 lbs of rice delivered

73 residents in our hospice and rehab center

170+ children in our Little Lights Program

2100 medical care packages delivered

200 custom pairs of shoes given

And over 4000 km traveled to reach those who need our help most! 
We are AMAZED by how God has grown this ministry since it was first launched in 2003. And now, nearly 20 years later, we are looking forward to reaching more people with the help and hope they so desperately need. Our goal is to reach 200 more families who currently do not have any access to medical care or additional meal support! The sooner we can get to them, the sooner we can see lives transformed, perhaps even saved! That's a huge increase – but we know with your help and God's continued provision, we can see more lives transformed. Like our friend Suseela…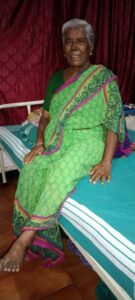 When Suseela was 27 years old, she contracted leprosy. She was treated for the disease and lived a happy life with her two children and husband. But as she got older, her husband passed away, and her kids started families of their own, and they didn't have the resources needed to care for her. 
Lonely and struggling with a chronic ulcer, her doctor suggested that she visit Embrace a Village to get some much-needed care. Our team welcomed her into our hospice center three years ago. Her quality of life instantly improved, AND she encountered Jesus! 
We have countless stories like this and know that this ministry has the potential to reach many more. Will you consider joining our Embrace a Family program to financially provide for the needs of one family? It costs about $70/month to provide our weekly visits of medical care, supplies, and food delivery, and to show one family they are not alone. This estimate is figured for a family of four, which is our average. Your sponsorship covers the fuel to reach these remote villages and all the needed supplies! 
100% of gifts made to EAV go directly to the needs at hand and are tax-deductible. Will you pray about participating in our sponsorship program or making a one-time gift as a part of year-end giving? These families need the help now and we are ready to go as soon as it's funded. 
Thank you for your support this year, we hope you feel encouraged by the data we shared above!