Jay's 10 year journey!
Jay's journey is a testament to the incredible power of resilience and the transformative impact of love and care. Once abandoned and left to suffer alone, Jay's life seemed to spiral into darkness. The weight of leprosy burdened him physically, emotionally, and spiritually. But hope appeared in the form of Embrace a Village, extending a lifeline to Jay at the rehab. The odds were stacked against him, and many doubted if he would ever recover.
Yet, against all odds, Jay proved everyone wrong. He fought through the depths of despair and embarked on a path of healing. At first, he yearned to escape, dreaming of a day when he could leave the confines of the rehab and regain his freedom. However, something extraordinary happened along the way. The compassionate souls at Embrace a Village enveloped Jay in their embrace, becoming the family he had lost. Their unwavering support and genuine care brought solace to his wounded heart.
Over time, Jay's perspective shifted. He realized that Embrace a Village was not just a place of healing; it was a sanctuary where love and acceptance thrived. Embracing his newfound family, Jay discovered a deep sense of purpose. His transformation was remarkable. No longer a passive recipient of care, Jay became a beacon of hope for others. His unwavering faith led him to take up the mantle of leadership, guiding Bible studies and leading group chapels for fellow patients and staff.
Although Jay's battle with leprosy left lasting physical scars and took away his sight, his spirit remained unbroken. Last year, an unexpected invitation arrived from his family, urging him to return home permanently. Jay ventured back, relishing the joy of being reunited with his loved ones for a brief period. Yet, his heart ultimately guided him back to Embrace a Village, his true home. For almost a decade, Jay has called it his sanctuary, his refuge, his family. Now knowing the Lord, as well as, the love, care, and sense of belonging he finds within its walls have become an inseparable part of his being.
Jay's journey serves as a powerful reminder of the profound impact Embrace a Village has on the lives of those it touches. His resilience, faith, and unwavering spirit are a testament to the transformative power of compassion. We are profoundly grateful for the opportunity to be a part of Jay's story, witnessing his growth, and being a source of support on his remarkable journey. Together, we continue to carry the torch of hope, spreading love and healing to all who need it most. Praise God!
Joe and Pat had the opportunity to visit Jay in April, this is what Joe shares about his experience:
"During our visit to India in April of this year, Pat and I had the privilege of spending precious moments with Jay at the hospice center. What struck us most was Jay's profound contentment and genuine interest in expressing gratitude and love to his fellow patients. Despite the challenges he has faced and the disfigurement caused by leprosy, Jay's hope and faith in the Lord remain unwavering. His unwavering spirit and hope for the future, even in the face of adversity, are a testament to the strength of his character. Jay's unfaltering hope to see Jesus face to face is a beacon of inspiration to all who know him.
Witnessing Jay's transformation and the impact he has on others is nothing short of miraculous. His love for his fellow patients and his deep understanding of their individual journeys is astounding. Jay's involvement in the rehab and hospice centers for larger events speaks volumes about his compassion and dedication to uplifting others."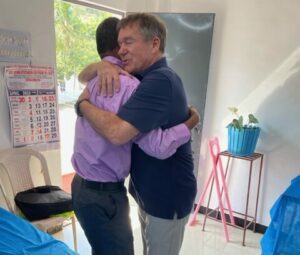 In moments like these, we are reminded of the incredible impact our faithful partners in prayer and support have on lives like Jay's. It is through your compassionate commitment and generosity that individuals like Jay find hope, healing, and a renewed sense of purpose. We extend our heartfelt gratitude to each and every one of you for making a difference in the lives of those we serve.
Your continued support enables us to uplift more lives and provide the care and support necessary for their journey toward wholeness.