Thankaraj's Journey of Faith and Friendship
Today we get to share an incredible story of transformation and hope that has been made possible through your generous support of Embrace a Village and the intentional love of God!
Let me introduce you to Thankaraj, a remarkable individual who embodies the true spirit of resilience and the power of community. We have witnessed his journey from despair to restoration, and it is truly inspiring.
When Thankaraj first arrived at our center, he was in a state of utter destitution. His leprosy had left him disfigured and weak, and the world outside had turned its back on him. But within the walls of Embrace a Village, he found solace, acceptance, and a new family of compassionate individuals who refused to let him suffer alone.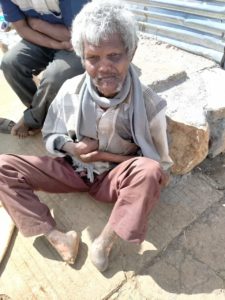 Above is a photo of Thankaraj when we first met him. The transformation is nothing short of miraculous. Through the dedicated care and support of our staff and the love he received from fellow patients, Thankaraj has not only experienced physical healing but also a renewed sense of purpose and belonging.
At the center, Thankaraj is taught the Word of God and encouraged to develop a personal relationship with the Lord. This spiritual guidance has been instrumental in his journey toward wholeness – moreover, the simple acts of kindness, like combing his hair because he has lost his fingers are incredible to witness. His story is a testament to the healing power of the Lord and the unmatched impact that a caring community can have on an individual's life.
We cannot emphasize enough how your prayers and generous contributions have made stories like Thankaraj's possible. Your unwavering support has been instrumental in changing lives and providing vital resources and care to those in need.
As we continue on this journey of meeting needs here in India, we humbly ask for your assistance! Would you consider making a one-time gift of financial support? Your contribution will help us continue to provide comprehensive care, support our dedicated staff, and ensure that individuals like Thankaraj receive the love, care, and friendship they so deserve.
Thank you for your continued support and for considering a one-time gift to help us further expand our reach and transform more lives. Your compassion and generosity truly have the power to change the world.