Compassion Ignites Hope and Transforms Lives
We want to share a truly heartwarming and inspiring story that showcases the transformative power of compassion, and it involves someone very special – Arakkan, a 67-year-old man from the Tiruvallur district of Tamilnadu.
Arakkan's life has been a journey of trials and tribulations, but his unwavering spirit has left a profound impact on all who have crossed his path. Despite residing in a humble hut within his village, Arakkan refuses to succumb to despair. With unyielding determination, he works on a local farm, choosing not to beg for survival even amidst scarcity.
The story of Arakkan's transformation began when he encountered our staff at his village. Once known for his hardened heart and resentment towards the divine, Arakkan underwent a miraculous change. His voice, once filled with curses aimed at the heavens, now resonates with kindness and respect whenever he graces our ulcer care camp. With newfound courage, he opened up about his life's untold chapters – tales of rejection and abandonment, where even his own family severed ties in response to his leprosy.
For years, Arakkan endured isolation and poverty in his village, receiving no aid or sustenance. However, solace awaited within the walls of a leprosy home, where he sought refuge. After healing from his agonizing ulcers, Arakkan returned to his village, where a compassionate villager offered him work on their farm. This act of kindness provided him some means, but the relentless ulcers demanded much of his hard-earned wages, as he struggled to find bandages for relief.
Hope arrived approximately seven years ago when Embrace a Village introduced the ulcer care program in his village. This transformative initiative lifted the burden of worrying about bandages from Arakkan's shoulders. The joy that radiates from his weathered face is immeasurable as he gratefully accepts the provisions of bandages, rice, and even MCR shoes provided by Embrace a Village.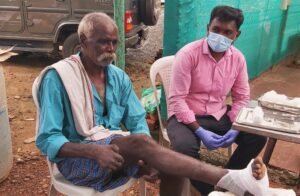 It is your generosity and caring spirit that enable us to serve individuals like Arakkan, uplifting them from hardship and despair. Your support has the power to ignite hope and transform lives. Would you consider making a one-time contribution to help us continue our efforts in making a difference for those in need?
We firmly believe that together, we can continue to bring a big impact in the name of God to the people of India! Your kindness makes a profound impact and brings smiles to faces like Arakkan's, forever etched in our hearts.
Thank you for being a beacon of hope and inspiration to all we serve. We are profoundly grateful for your ongoing support.