Your giving sparks hope in India!
Through your prayers and support, so many people now have genuine Hope in a purpose-driven life! One story that has touched our hearts deeply this year is Hema's testimony. 
She's been processing the traumatic events of losing her family while living with staff here at Embrace a Village. We're now so happy to report that she's in nursing school and doing really well! You can read Hema's story here.

During Joe's visit to India, he had the privilege to sit down with Hema and hear an update!
Hema is so happy to be in college and says she's thankful to God and to Embrace a Village for providing all the financial support for her studies. Please pray that Hema will excel in her studies and enjoy each day of her college life!

God has opened up so many ways for us to serve people impacted by leprosy – and their families! Our Little Lights Program provides an opportunity for children who have been ostracized or neglected by the school system to get the education support they deserve. This program also provides the children with a nutritious meal and an opportunity to hear about Jesus.
In fact, it is through our Little Lights program that we came to know Hema! 
We invite you to partner with us as we continue to serve the students and their families through this after-school tutoring program.
Your faithfulness to give to these projects allows us to serve and grow the ministry to reach even more people with hope, care, and opportunity!

Maya started her quilting business over eight years ago with faith and a vision to see God's love spread to people around the world through these beautiful designs.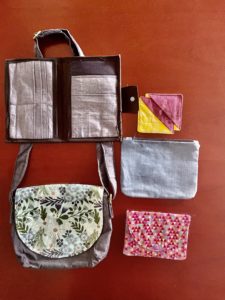 When you join Embrace Hope with a monthly gift of $25 or more, you will receive a beautiful handmade bag! All of the bags are designed and created by Maya who is married to our staff administrator Vino.
These handbags come in all shapes and sizes, and we can't wait for you to open your surprise gift package and see which one you receive!
THANK YOU! May your gift be a blessing to you as it is to the people and families we serve in India! 
Bless you, 
Joe, Anil, and Team EAV