One Trip that Changed Everything
For Joe, the birth of Embrace a Village started on a mission trip in 2002. He visited different parts of the world but was intensely moved by the suffering he saw in India. The people affected by leprosy were shunned by society and discarded with nowhere to turn.
Unable to forget the people he met, Joe knew he was called to help.
At the same time, husband-and-wife team Anil and Rose Kumar started their National Leprosy Relief and Rehabilitation Work ministry to help the same population that had so deeply impacted Joe. The Clendenny's and Kumar's realized they were looking at a God-sized dream and decided to join forces for the Kingdom of God.
Together, they founded Embrace a Village (EAV) in 2003. EAV became a 501(c)(3) organization in 2004 and has been able to commit 100% of donations to programs for those affected by leprosy!
 Donate to the End of Year Campaign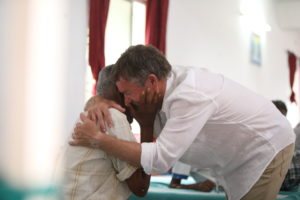 Today, we serve over 4,000 people in southern India through medical care, after-school programs, custom-made footwear, a rehabilitation center, hospice, nutrition outreaches, microenterprise farming projects, and sharing the Gospel of Jesus Christ!
Our hospice center provides care for older patients who don't have families or who were abandoned by relatives. Check out the recent surprise they received when a special guest came for a visit!
God has blessed this mission beyond what we could have hoped for, but we know this is just the beginning — God has so much in store! 
Through your prayers, Jesus' name will spread through the villages of Tamil Nadu!
Through your generosity, we believe families will find healing and purpose!
Help us bring hope to even more people in the coming year: Join our End of Year Campaign!
Your prayers and support of this ministry are changing lives, thank you! 
We pray you are enjoying the holidays and spending quality time with loved ones. 
Happy New Year!