As we move into the new year, we would like to take a moment to reflect on a sweet testimony from our friend, Harikrishnan, or "Hari." 
Hari was ten years old when he noticed patches on his hands and legs. His parents thought it was a skin allergy from a worm or insect bite. They took him to a nearby clinic for treatment, but the treatment did not help. 
Finally, Hari's parents took him to a government leprosy hospital. There the doctors confirmed that he had contracted leprosy. After his diagnosis, Hari experienced significant challenges and heartache in his young life. 
He started treatment at the hospital and moved back home one year later. While attending his local village school, Hari noticed that ulcers were forming on his legs. He returned to the hospital for ulcer care, but this time the wounds were too severe, and doctors had to amputate his leg. 
Hari's parents were afraid to take their son back to their village because of the stigma of leprosy and the fear of what people thought. They decided Hari should remain at the hospital for many years.
After some time, Hari's parents stop coming to see him. He couldn't believe that his parents rejected him. Soon his brother and sister stopped communicating and visiting with him too. 
One day he received news that his father had passed away. They told him he could not come home to see the family. Several years later, his mother passed away. No one told him until one year later. 
The brokenness that Hari experienced from his family's rejection left him in a sad and lonely place. 
He continued living at the hospital for nearly ten years and then moved to a leprosy colony.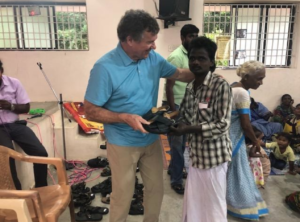 About 15 years ago, Embrace a Village stepped into Hari's life. It didn't take long for things to start changing. Our team started spending time with him and caring for his ulcer infected hands, feet, and legs. 
Soon we became a family for Hari. He says he truly experiences the love of God through them.
We were able to provide custom made shoes for Hari's prosthesis and his other ulcerated foot. Without custom footwear, he would not be able to walk.
Hari shared, "I can live without food for one or two days; but not a moment without shoes," 
He's now 46 years old and married to Vijaya. We are so thankful for the opportunity to know and serve Hari!