You may remember the heart-wrenching story that we shared a few months ago about Hema. She and her older sister attended our Little Lights After School Tutoring Program when they were children. It was during her time at Little Lights that she came to know Jesus. 
As the years went on, her family encountered overwhelming debt. To escape immense pressure from a loan shark in their village, they entered into a suicide pact. At the last moment, before taking the poison from her father, the Holy Spirit moved in Hema, and she had a massive desire to LIVE. 
She ran out of the house and came to our hospice center for help. Sadly, she lost her family that night, but the Lord has not forgotten Hema for even a moment. She moved in with Anil and Rose, and they have rallied around her like family.
This is a recent photo of Anil, Rose, their kids, and Hema. (She is in pink).

Today we have a beautiful update to share!
Today, Hema attends the Christian College of Nursing and is earning a two-year degree. She wants to become an Auxiliary nurse-midwife, commonly known as ANM. She will practice as a village-level female health worker and will be the first contact person between the community and government health services. 
Hema is such a beautiful light and encourages so many with her presence. She has a huge heart for those hurting in the villages, and we are excited about how the Lord will use her gifts to bring His name glory.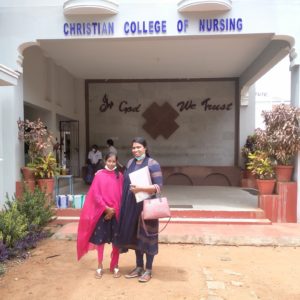 When Embrace a Village staffers, Sunil and Mercy, took Hema to college, they had an opportunity to meet with the principal. Mercy shared about Hema's trauma, and the principal was so moved by her story and guaranteed that Hema will receive special care and attention in every area. The Lord continues to pour His favor and love over Hema's life, and we are so grateful. 
We hope that you will join us in praying that Hema will excel in her studies and enjoy each day in school. She is so excited and praises God for his faithfulness! If you'd like to contribute towards her tuition, you may do so here. 
Thank you for following her story and for praying over her! We are seeing the fruit of your prayers firsthand through her life. 
God bless, 
Joe, Anil, and Team EAV