Today, we want to celebrate someone who has been with EAV since he was in first grade. His name is Jobin, and he's the son of our staff members, Sunil and Mercy.
When Jobin was seven years old, his family moved from Tamilnadu to serve leprosy colonies in northern India. They later returned home to help us start the hospice ministry and have served with EAV ever since. We are so grateful for this beautiful family!
Missionary Kid Life
Growing up, Jobin's life was his family, the hospice ministry, and school. He had a happy life, and loved the church planting he was part of, the preaching on occasion, and serving others, yet there was a God birthed dream stirring in his heart that he couldn't shake. He absolutely loved cars and dreamed of designing them when he grew up.
Pictured: Mercy (mom) Sunil (dad) younger brother Joel, and Jobin
Now, it's important to note that India doesn't have many luxury or sport cars, so the only way he saw all the cars that we see regularly was by looking at European and American cars on the internet. He loved the creative part of cars and fell in love with design.
At a young age, he would sketch in his mom's song books because there was a blank page in between. Really, he'd sketch anywhere he could find space! Once, his math teacher caught him drawing instead of paying attention and told him his drawings were a silly dream and would never lead to anything. Hearing this was discouraging, he didn't lose heart. 
Finding his calling
After grade school, Jobin went on to become the first person in his family to graduate from a university. He learned the mechanics of cars, but had little opportunity to design, so he started the process of looking for design schools. He found two in India, but was past the age limit – the cap was 18 and he was 19. 
He continued searching the internet for schools, and found IATT in Italy. He applied via snail mail, passed the entrance exam with flying colors, and turned in a mini cooper sketch to prove his talents (they only accept hand drawn sketches, no erasers allowed!) 
Jobin was admitted, but the bank transfer was delayed and he missed the opportunity to go in 2020 – which proved to be a major blessing in light of how bad the COVID19 outbreak was in Italy. The school saved him a spot for the following semester, and he arrived in Italy a few days ago!  
The hospice residents prayed over Jobin before he moved to Italy. 
Excited for What God Has in Store!
Jobin is so incredibly grateful for the opportunity the Lord has given him, and says that he, "recognizes it is special and very unique and God-Given." He likes to say that God is the "original" designer, so he takes his cues from Him. 
Mercy and Sunil are so proud of Jobin, yet like any parent, they are sad to see him go. It's with great faith that they send their son into the world to do something much more than most in India can dream of – it's truly a miracle.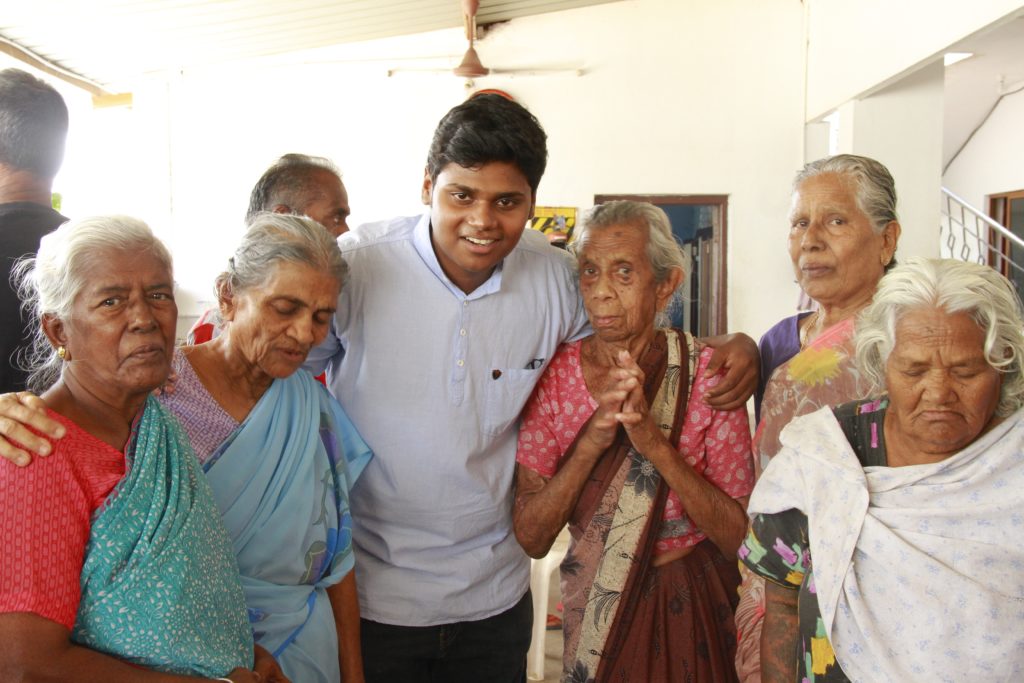 After graduation, Jobin wants to give back to his family and those in need. It's like God is planting a seed today that will take care of many in the future.  
Here are ways you can pray for this young man:
Easy adjustment to a new culture, language, environment, and being away from family

Success in school

Safety and good health

Good church and really good friends

Won't feel isolated or lonely in a new world
We will keep you posted on Jobin's story, we believe God has great things in store. Thank you for celebrating him and praying with us.