Education plays a key role in reversing generational poverty and isolation.
Embrace a Village hosts an after-school tutoring program for the children and grandchildren of those suffering from leprosy. Too often the education of these children is greatly neglected due to poverty and the stigma surrounding families from the leprosy colonies. We saw this need and the opportunity to reverse the cycle with consistent education and nutrition support for the children!
The fruit of this program is evident in the many students that have gone on to higher education and profitable careers. Children like young Navaneetha have the opportunity to pursue more in life and discover God's love with the help of our caring team! 
Navaneetha and his older sister are from one of the leprosy colonies we serve. He is in the 4th grade and has been an active attendee of our Little Lights Program for four years!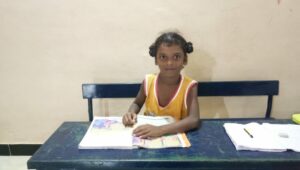 His parents come from poverty and did not have the opportunity to pursue education. Navaneetha and his sister would likely have followed the same path, but thankfully they learned about our tuition program running in their village! 
He is a very energetic boy; he likes to sing songs and dance. So he enjoys our Friday Bible story time, where we teach Bible stories and songs. It was such a great relief for his parents that EAV is taking care of the studies while also providing a nutritious meal for their children.
It is your generosity that allows our organization to meet needs like this throughout India! Thank you for putting your faith and support in God's mission within Embrace a Village. Keep an eye out for more stories like Navaneetha's – and one day an update on all he does to break cycles of poverty in his family!