An entire family now knows Jesus!

Today we share how your generosity has impacted the life of Kirubaidas. 
Kirubaidas is 86-years-old and was raised in a non-Christian, agricultural family. He grew up one of seven children and unfortunately had his life completely altered when he was first affected with leprosy at the age of 16.
His parents did not abandon him in his illness like so many others, they took care of him well and took him to several hospitals. During this time Kirubaidas was still able to go study for a Bachelor of Medicine and Bachelor of Surgery.  In his second year of studies, he experienced depression and other complications with his leprosy wounds and had to discontinue his education. The wounds, leprosy, shame, and pain all lead him further into isolation and fear. It was at that time he went to the Leprosy Hospital in Chengalpet and stayed there for some time.
At the age of 40, Kirubaidas was married to Vasanthi who also suffers from leprosy. They are blessed with two sons. The first son is Kumar, who is 37 years old and is handicapped due to polio during childhood. He is married to Vasanthi and they have three sons. The second son is Prabhu, he is married to Aarthi and is blessed with two sons – lots of boys in this family!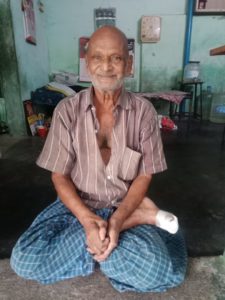 It was about 10 years ago that Kirubaidas came to know Embrace A Village from one of his friends.  He says that he and his wife feel overwhelmingly blessed for this introduction to EAV! He and his family receive rice, medicine, and wound healing/cleaning kits.
Kirubaidas and his family came to know about the love of Jesus Christ during these trying times and they all accepted Jesus and dedicated their lives to serve God. He told us that it is because of God's work through EAV that allows him to live a respectable life in spite of his leprosy.

There is no way to know how Kirubaidas' life would have turned out differently had it not been for your generous giving! 
Thank you for continuing to partner with us as we serve the villages.